SecIron joins forces with Computer Union to enter the Mobile Application Security market in Thailand
In an increasingly digitized world, cybersecurity has become paramount to the success of any organization. The partnership between Computer Union and SecIron brings together the best of both worlds – Computer Union's extensive distribution network and market expertise in Thailand, coupled with SecIron's world-class cybersecurity products and solutions.
The core of this partnership lies in the introduction of SecIron's state-of-the-art cybersecurity suite, offering comprehensive protection to businesses against cyber threats and data breaches.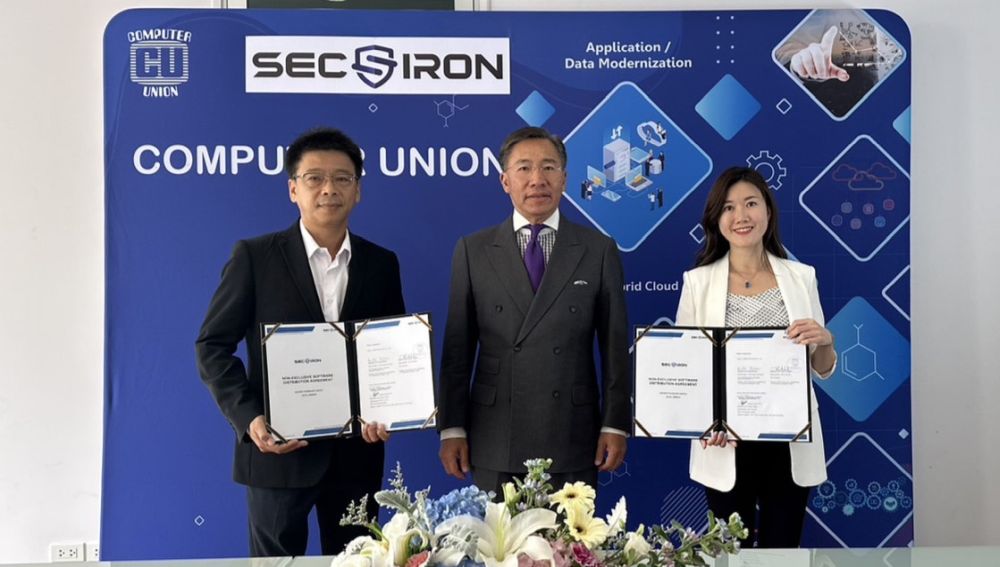 The partnership aims to provide an end-to-end mobile application security solution based on the next generation security architecture for mobile apps to Prevent, Detect, Respond and Predict, empowering organizations to defend themselves proactively against a myriad of cyber threats.
Multi-Factor Authentication (MFA) – Easily verify and authenticate digital identity. The solution is designed to help protect remote user identities in a secure environment by securing critical data in mobile applications.
Mobile Application Security Assessment – An automated vulnerability assessment platform to assess your mobile app and generate a report with recommended solution within minutes.
Mobile Application Hardening – A code-less mobile app self-protection solution to prevent reverse engineering and runtime attacks.
Application Threat Monitoring & Response – A monitoring solution to help you gain security visibility and control on your mobile app, detects any abnormal threats towards the app and auto responds to it.
The roadmap for implementing SecIron's mobile app security suite in Thailand is carefully crafted to maximize its impact on the cybersecurity landscape. Computer Union, with its deep-rooted understanding of the local market, will spearhead the distribution and deployment efforts.
The partnership between Computer Union and SecIron will provide clients with cybersecurity threat prevention implementation through seamless integration, provide comprehensive training, and offer ongoing support.
Computer Union's track record of excellence in the technology distribution domain, coupled with its dedicated team of experts, makes it the ideal partner for SecIron's entry into the Thai market. Computer Union's well-established network of channel partners, resellers, and satisfied customers will facilitate a swift and effective introduction of SecIron's cybersecurity suite to the target audience.
SecIron's leadership recognized Computer Union as a company that shares their values of innovation, reliability, and customer-centricity. The alignment of these core values further solidifies the partnership, promising a symbiotic relationship for both parties.
This partnership is a testament to both companies' dedication to providing top-tier cybersecurity solutions that empower businesses to thrive in an ever-changing digital landscape.
Together, Computer Union and SecIron are set to redefine cybersecurity standards in Thailand, enabling businesses to face the challenges of tomorrow with confidence.
About Computer Union
Computer Union Co., Ltd. is a subsidiary of Saha-Union Public Company Limited, established in 1982 by Mr. Damhari Darakanon, which operates the business of offering complete IT solutions and services. "Total IT Solution Provider" for more than 40 years as a distributor of many of the world's leading IT products Both hardware and software products, along with a quality team ready to serve both before and after the sale. Together with an extensive experience in the field of IT, the company has been trusted by large organizations across the country. For more information, visit www.cu.co.th
About SecIron
SecIron is a leading mobile application security solution provider that offers an end-to-end service and solution to help business and organizations discover, avoid and mitigate security risks associated with mobile applications – allowing organizations to remain competitive and deploy in a safe and secure environment. For more information, visit www.seciron.com